Some of the most intriguing expressions of art can often be perceived in a number of ways.   Is the true meaning of a piece that which was intended by the artist or what is recognized by the observer? It can certainly be argued that many subconscious messages present themselves with a piece of artwork, perhaps completely unrealized by its creator. The work of human hands with the assistance of any variety of tools never fails to reveal some level of emotion and perhaps that is the point after all.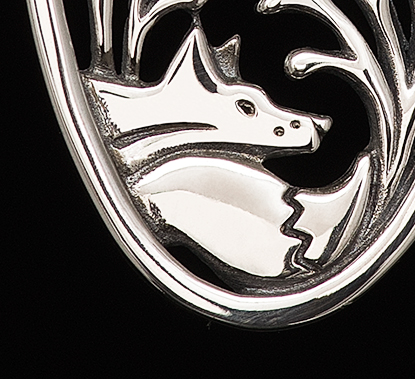 One of the more popular designs in my developing nature themed line is my Artfully Elusive Fox pendant. The piece features an expressive fox crouching low among morning glories and fluttering butterflies. When I point out the animal I often describe his intense expression and pose the question, is he hunting, hiding or both? Reactions to this inevitably vary among those who wish to see his soft innocence and others who choose to embrace his power and cunning. In reality, as a fox, much of his day consists of hunting and hiding with both being essential to his survival. I see the fox as determined. He works at his foxy crafts with purpose and conviction regardless of his specific intensions in that moment.
Still others simply observe the grace of the composition with the light flowers surrounding our furry friend and divine it to be a reflection of nature's serene elegance. Every artist is compelled to create, as an emotional outlet and act of self-expression. The art they create in the end is never wholly theirs. The stories and meanings embodied in their creations posses an ever-shifting array of interpretations.