Since his retirement my father has plunged into a long dormant pastime.  When I was young I can remember spending time in the basement with him, building bird houses and partaking in other simple wood working projects.  On his own he made some lovely furniture, a few pieces of which grace my home today.
Within the past few years he has enjoyed filling his time with projects of all sorts and investing in some new tools and equipment.  One of his (and my) favorite new "toys" is a Rikon wood lathe.  Dad enthusiastically turns numerous projects ranging from pens to segmented bowls in addition to a multitude of his other woodworking projects.
I have spent countless hours on a metal lathe but had little experience on a wood lathe until recently. The technique is a bit different owing to the fact that a metal lathe has a tool affixed to a mechanism that you control by turning two dials, or sometimes three depending on the machine.   When turning wood, you hold the cutting tool by hand and maneuver it freely while bracing it on a rest.
I began my wood turning adventures by crafting a pen from granadilla and later two bowls.  Figured maple proved to be a wonderful and striking medium for the first of the two!  Wood, however, tends to be much more temperamental then metal as it provides a level of inconsistency and unpredictability that metal is free of.  I learned a tremendous amount about positioning the wood at the best angle to deal most effectively with the grain.  The end grain can be a bit more difficult to smooth, but after sanding, sanding, sanding, and more sanding a flawless finish can certainly be achieved.
A gorgeous and colorful piece of ambrosia spalted maple provided a beautiful, but challenging medium for my second bowl.  The striking pattern of this wood is created by the ambrosia beetle which coexists symbiotically with a particular fungus.  The fungus is found on the beetle itself and neither can exist without the other.  The beetle must plant spores within the wood it inhabits to cultivate more of this fungus that it will then feed off of.  As the fungus flourishes, these "galleries", as they are referred to, darken in color an impart a stunning pattern.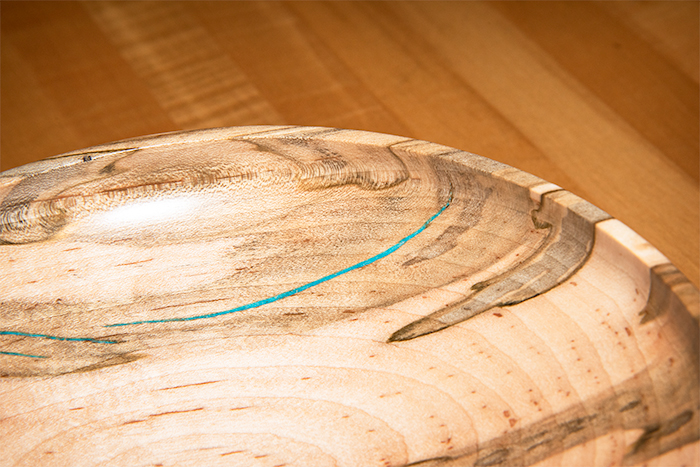 My block of spalted maple revealed a substantial crack early on.  This crack naturally left the bowl somewhat unstable, but also imparted some wonderful design possibilities.  On my Dad's advice, I periodically applied a thick CA glue to stabilize the crack while I turned the bowl on a much slower speed than I otherwise would have.  I turned this bowl knowing all the while that there was a distinct possibility this piece of art I had been working so hard on could potentially crack and fly off the lathe.  Therefore I took every precaution to make sure it did not.  Once I was satisfied with the shape of my bowl I made use of the crack that had been the cause of so much concern and careful handling.  A few needle files to clean it up, fine powered turquoise and thin CA glue gave it a delightful contrast against  the natural spalted pattern of the wood.
Working on the wood lathe was a wonderful opportunity.  A special thanks to my Dad, Phil, and Don Titzel, one of his wood working buddies who was also kind enough to lend tools and advice.