My previous article began to explain the rather broad topic of how I got started. This is a question I hear often while at trade shows. My involvement in three dimensional and metal arts seemed a logical place to begin. Artistic talent alone however is far from enough to turn a skill into a business. Over the years I have seen some very talented individuals remain unnoticed while others producing poorly made junk appear to excel. I attribute this to a number of factors.
In my case I was fortunate enough to have a mentor with strong business skills. He epitomizes the concept of the American Dream. Earl Sheehan was one of 6 children who grew up on a small dairy farm in New England. From a young age Earl worked tremendously hard to put himself through private school and went on to run three highly successful businesses simultaneously; he has since retired from two of these. My mom worked at one of his businesses for several years. When Earl saw some of my jewelry work he ordered a few items and encouraged me to turn my talents into a career. He was kind enough to teach me a tremendous amount about business and what it takes to establish yourself and finally turn a profit. Earl's work ethic is unrelenting. Throughout his life he has pushed himself to the limit, putting 100% into his endeavors. Even battles with serious illness don't keep him out of the shop. At times I have wondered if he pushes himself too hard, but his determination and tenacity are quite commendable and inspiring. Although I have never taken a business course in my life, I don't think any number of college level classes could have imparted a fraction of what I have learned form Earl and through the sink or swim pressure of actually surviving through running my own small business.
My debut jewelry collection combined my passion for horses with my interest in astrology. The Zodiac Ponies made their appearance in 2004. I took the set of these whimsical ponies to a local tack shop, one that I had shopped at for several years. To my surprise and delight they decided to purchase them! In retrospect, it really isn't terribly surprising as I had been a good customer, but at the time it was thrilling. I found a list of all the tack shops in Massachusetts, where I was living at that time, and began to visit them on the days that I was not working at one of my other two jobs. The very first new tack shop I visited took the collection and this encouragement was invaluable.   My Zodiac Ponies overall were very well received.   However, I soon found out, as thrilling as my initial success had been, the first shop to turn down the series was somewhat devastating. Despite the fact that they were a very small store offering a hand full of relatively cheap halters and not much else, it can still be quite hard to have your beautiful work rejected.

When I began my business I had two other jobs. One was quite enjoyable and involved spoiling and riding two Icelandic Horses for a woman who enjoyed having them, but did not have the time to spend with them. I loved them as if they were my own for many years. My other job was at a high-end jewelry store. I was GIA certified and fortunate enough to land a job selling a number of Swiss watch brands and diamond jewelry. I knew diamonds quite well, but I did not have any sales experience when I began working here. Observing other sales people and various interactions with customers were critical in helping me develop some of the skills I would soon need to run a business. One of the most valuable lessons came during my first week at the store. A kid in his early twenties wandered in wearing ripped jeans and a tee shirt frayed around the collar. He wanted to look at engagement rings. Based on his appearance none of the sales people in the stores wanted to deal with him, so I did. It was true, this kid was not spending much on his wardrobe, but as it turned out he had saved up quite a bit. He chose a lovely mounting and a high quality diamond totaling twenty thousand dollars! Even at 1% commission, that was a pretty sweet sale. Human nature is judgmental and we instinctively want to judge those around us. Sales will teach you as nothing else can the truth behind that age-old expression regarding books and their covers.
On days when I was not working at the jewelry store I gradually visited each of the tack shops on my list of MA tack stores. I soon began to acquire lists for surrounding states. After about a year I had exhausted all of the equestrian shops that I could drive to and from in a day and it was time to embark on longer journeys.   At the jewelry store business was steadily decreasing, new management took over and "restructuring" took place. Many of us, starting with the most recent hires and basically going up the list, were laid off. I might have liked to stay longer, but it came at a good time. From here the road trips began.
I did not sell exclusively through sales calls. There are two wholesales trade shows for the equestrian market that take place just outside of Philadelphia. I brought my little collection of twelve Zodiac Ponies, which at this time also had matching earrings and charm bracelets, to my first tradeshow. In addition to these I built up a handful of other equestrian designs as well. I was quite young when I attended my first expo. My Dad was nice enough to accompany me on the trip. I can remember feeling totally overwhelmed setting up alongside multimillion dollar companies from all over the US and abroad. I quickly learned the equestrian jewelry market was rather cutthroat when another, much older, equestrian jeweler yelled at me for looking at her booth. The mistake was completely innocent on my part. I did not realize it was a professional courtesy to keep some distance between yourself and your competitors. Ironically, a few years later this woman made something that looked remarkably like one of my more successful pieces. Overall my first show turned out well, I acquired several customers from all over the country and I regularly attended these shows for many years. It was here that the Guinevere Necklace won the 2007 Innovation Award.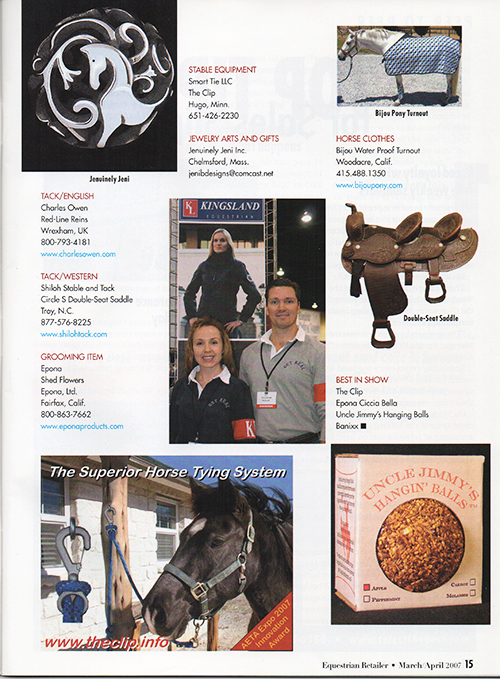 At this point I will leave the rest of my rather long explanation about "how I got started" for another and what I expect will be the last in this short series of articles. The road trips could be like a rollercoaster of highs and lows. Plus I will also explain how an equestrian jeweler came to sell at gun shows.