Many in the New River Valley are familiar with the Artemis Journal, a book published annually showcasing some of the talented poets and artists of southwestern VA and beyond. This year the publication is celebrating its fortieth year! I'm thrilled to be a part of this amazing book with one of my fine arts photographs gracing page three of the Journal.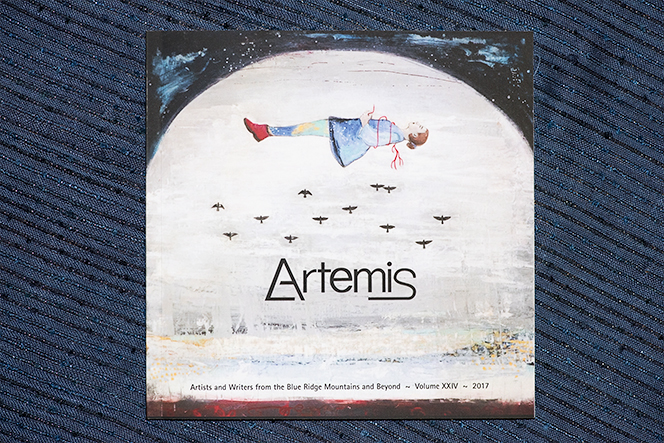 Dancing Spirits is a macro shot of some dried out flowering seedpods. I was hiking along some farmland in the country during one of my photographic adventures and came across an old tractor that was slowly succumbing to the elements. It was early spring. An old vine of tiny buds from a previous year had wrapped itself around one of the tractors rusty steel cables. The corrosive rust of the farm equipment combined with the delicate nature of these dried blossoms created an intriguing contrast, a contrast that inspires introspection. I took numerous photos at several apertures. Ultimately, through the use of perspective and depth of field I strove to bring life to these tired forms and impart an ethereal energy into what was soon to be lost forever.
In processing, I chose to portray the image with muted tones against the soft blue background of the sky. Dancing Spirits was shot quite close up, with a macro lens at F13 1/250 S ISO 250.   The buds themselves were somewhere between one quarter and one half inch at their widest point. I felt their small size added some depth to the meaning behind the artwork as well. In the vast countryside, how many notice such small details that are here for such a short time. Other than the farmer who may eventually clean them off the tractor if it is still operational, I would venture to guess that their existence is noticed by very few.   Though perspective is everything and I speak from a human perspective. In the natural world I'm sure many insects and possibly birds found great relevance in these miniscule flowers. Art inspires thought and can convey much within seemingly simple forms.
I am honored to have my photography included in the current edition of Artemis. Even more so by having it pictured alongside a poem from their featured poet, Nikki Giovanni. The publication is non profit and is committed to encouraging the arts in the NRV by showcasing works from both emerging and established artists and writers, young and old.
The photograph "Dancing Spirits" can be purchased on my website either matted, matted and framed, or as blank cards. All prints are giclee printed and acid free.   I hope you will enjoy exploring all of my photography and artwork.
https://www.jenuinelyjeni.com/Dancing-dry-buds-photography.html